What's the best place to eat al fresco in Powell River?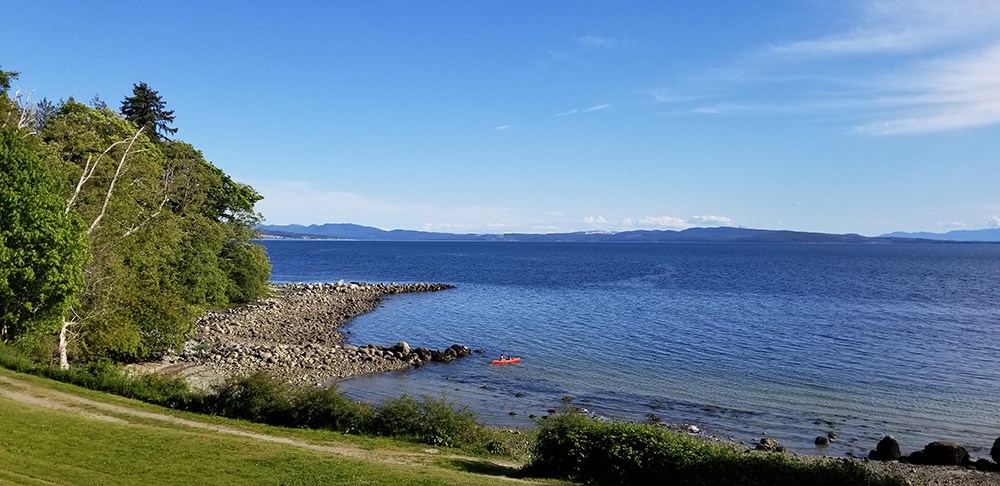 A plethora of options await those looking for a perfect picnic spot in and around the qathet regional district.
Ocean and lake side beaches are not only plentiful, but also convenient and easily accessible within the city limits of Powell River or a short drive north or south of town.
Other areas require a bit more planning, a bit of walking, hiking, or biking, but offer more than a bit of fantastic scenery and ambiance. Some have picnic tables while others are more rustic.
Pack lunch or order takeout from your favorite restaurant, cafe, or bistro, and bring a blanket, or just sit on Mother Earth while eating and enjoying the surroundings.
Here are some beautiful places that will enhance any meal:
Antoine Island
Just a 45-minute forest walk (or 15-minute bike ride) from Inland Lake Provincial Park, Anthony Island is a gem among the many sparkling spots surrounding the lake. A picnic table in a shady spot provides relief from the sun in addition to a quiet spot for lunch or dinner. Logs and a rocky area along the beach are also a great place to nibble on snacks or a meal before or after a swim.
Gibsons Beach
The qathet area is blessed with views of the Pacific Ocean and Vancouver Island, and Gibsons Beach is one of the best for viewing the water and islands in between. Add a grassy area above the beach, which is a perfect setting for a leisurely meal for two or more, and the sandy beach, and an afternoon or evening meal can turn into summer hours. outdoor activity, or non-activity, depending on preference.
Kelly Falls
A 25 minute walk from the trailhead near Duck Lake, Kelly Falls is just one of the waterfalls along the Blackwater Creek Trail. Eat directly on the walkway adjacent to the falls or exit the trail to rest below for a take out or prepared lunch, and maybe some rest before continuing to complete the loop or back. Keep an eye out for bikes as the trail is popular with cyclists and hikers.
Myrtle rocks
Some planning is required to enjoy a picnic at Myrtle Rocks meaning that a tide guide check is required to ensure the path is passable and not swimmable. At low tide, a short excursion from the freeway, through the sand, or right at the water's edge, then finding a route to the top of the rocks leads to several great places to sit and eat, including a picnic table. You might also find a souvenir or two along the way.
Millennium Trails
Willingdon Beach is not only a beautiful place to eat, drink and play, its location in the center of town is also convenient to get there. But just across the street are several trailheads leading to the Millennium Trails, and the myriad of routes through the forest and along the streams, which are also easily accessible from the Powell River Recreation Complex, provide countless areas to take a break, pull out the picnic basket or take out meal of your choice, and dig into the goodies.
Stillwater Bluffs
For a different experience than Beach Trail and Sea Walk in town, try hiking in and along Stillwater Bluffs to whet your appetite. Pack your lunch, dinner, or snacks in a backpack through the wooded trail, then find somewhere along the cliffs for a quick meal or settle in for a few hours, taking in the views of the sea. island of Texada, before further explorations. How about two meals? Worth hanging out.