TTG – Sponsored Features – Why island hopping is the best way to explore Malta's highlights
---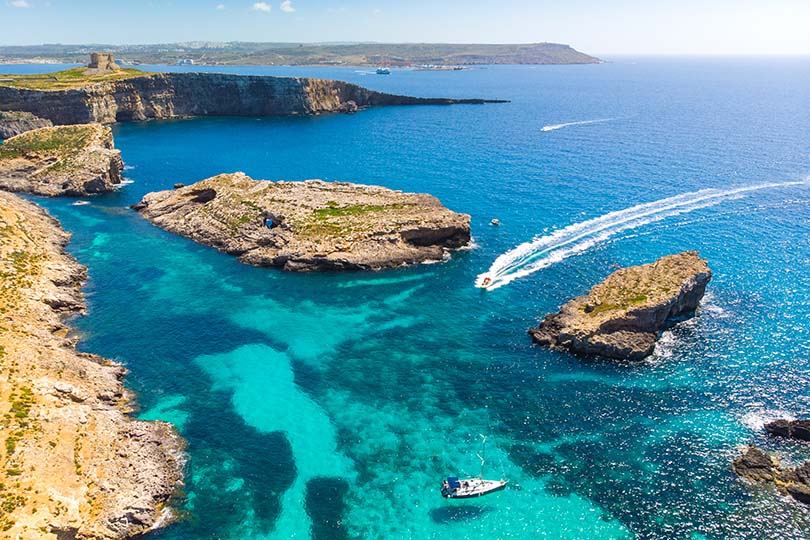 SPONSORED ARTICLE
There's nothing like an island getaway to recharge the batteries, and the Maltese Islands offer cultural buzz, natural beauty and sunny beaches to tick all the boxes, just a three-hour flight from the UK .
---
Sasha Wood
Freelance journalist
---
Sasha Wood
Freelance journalist
Comprised of the main island of Malta, as well as sister islands Gozo and Comino, the island hopping tour is the best way to experience the archipelago's fascinating mix of man-made wonders and stunning landscapes, highlighted by blue skies and sparkling sunshine.
Castles and Crusades
Steeped in history and teeming with preserved monuments, Malta's cities are living museums offering visitors a journey back in time to an era of crusading knights and fortresses. The island's capital, Valletta, was chosen as the headquarters of the Knights of St. John in the 16th century, overlooking the Mediterranean on a promontory flanked by two natural harbours.
Crowned by St Elmo's Fortress, its high sandstone walls and Baroque architecture look little changed from the water, where tourists can board local dgħajsa boats through the Grand Harbor to explore Malta's three historic cities – Vittoriosa, Senglea and Cospicua. Inside the urban lanes of UNESCO-listed Valletta, modern shops hide behind historic facades and cafes spill out into sunny squares.
The waterfront becomes a backdrop for music festivals in the summer, including the annual Isle of Jazz festival which takes place this year from July 11-16. In fact, Europe's smallest capital punches way above its weight when it comes to entertainment and culture, with EuroPride set to bring extra vibrancy to the city in 2023.
Foodies will appreciate Valletta's top-notch restaurants, including five Michelin stars serving fresh local produce on stylish harbor-side terraces. Likewise, heading inland for a wine tour and sipping wine made from Maltese grapes is a great way to get an authentic taste of the island.
Beyond Valletta and the Three Cities, the island's former medieval capital, Mdina, is a fortified maze of narrow passages well worth exploring on foot. To travel even deeper into the past, visitors can go underground to the prehistoric rock-cut Hypogeum sanctuary or wander through the ruins of the ancient Ħaġar Qim temple.
hidden treasure
But it's Gozo, Malta's laid-back little sister, that is home to the oldest of Malta's mysterious landmarks. Also credited to the Unesco World Heritage List, the temples of Ġgantija are considered the oldest free-standing structures in the world, dating back over 6,000 years to a time before the pyramids and Stone Henge. The National Museum of Archeology in the island's picturesque capital, Victoria, sheds light on the remains of a civilization long gone.
Underwater adventurers will also find sunken treasures in Gozo, considered by the famous ocean explorer Jacques Cousteau to be the best dive site in the Mediterranean. Its few excellent dive centers can take divers to reefs and caverns submerged in the pristine waters of the unspoilt island.
Lagoon life
Crisscrossed with sparkling caves and hidden coves, Malta's coastline makes a striking setting for a coastal break. Famous locally for its calm, shallow azure waters, the Blue Lagoon on the pocket island of Comino makes an ideal day trip for travelers who enjoy swimming and rocking in idyllic coves, while the Crystal Lagoon, lesser known, is ideal for floating around small caves and exploring by kayak.
Organized boat trips and ferries depart regularly for Comino from neighboring Gozo and Malta, and the island's small size means it can be easily navigated on a day hike along sunny tracks.
Although the islands combined cover a smaller area than Greater London, there is always more to explore in Malta, and hopping on a boat gives visitors the greatest reach.
Learn more about Malta at malta-training.com and TTG's dedicated destination hub.


next article

8 Art-Inspired Hotels and Restaurants in Hong Kong