Sheriff addresses homelessness crisis in Los Angeles County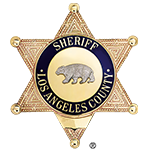 Sheriff Villanueva addresses homelessness crisis, provides statistics in Los Angeles County
On Wednesday, June 23, 2021, Sheriff Alex Villanueva and Lt. Geoffrey Deedrick of the Sheriff's Homeless Outreach Services (HOST) team, along with business owners from the Venice Beach Boardwalk, held a conference of press to address the homelessness crisis in Los Angeles County and the direct effect on businesses in Los Angeles County and the Venice Beach Boardwalk.
Sheriff Villanueva showed various snippets from news stories describing the homeless crisis on the Venice Beach promenade and explained that regulation of public space and public safety is necessary to address the homeless crisis.
Sheriff Villanueva said Venice Beach is in Los Angeles County and is Southern California's second most popular tourist destination. The tourism industry attracts about 50 million visitors to Los Angeles per year, contributing about $ 18 billion to the local economy.
The people of Los Angeles County are directly and indirectly affected by the homelessness crisis. According to the Los Angeles County Homeless Count, ten years ago the number of homeless was around 40,000 and today that number has doubled to around 80,000. Various measures, including the measure H, have been adopted to help the homeless. But some nonprofits meant to help the homeless benefit more to leaders, directors, doctors, etc. Some nonprofits (such as Share Your Share Inc. and Safe Place for Youth) do not have financial data available. While billions of dollars go to helping the homeless, very little actually gets to the root of the problem. Over the past ten years, six and a half billion dollars has gone to the homeless, and no progress has been made. Instead, the number of homeless has doubled over the past ten years.
Bob Carlson, owner of a skateboard and snowboard brand founded in Venice, has lived in the popular city for 30 years and has seen first-hand what the homeless population has done in Venice Beach. A few years ago he had the need to hire a full time security guard, and two weeks ago the security guard was violently attacked in his company parking lot when he told a homeless man he couldn't drink in the parking lot. He was injured so badly that he almost bleed to death. It took Los Angeles Police almost an hour to respond. Doctors informed Carlson that two vital arteries had barely been missed and his employee was lucky to be alive. Carlson said the residents of Venice Beach were "alone" and thanked Sheriff Villanueva for his efforts.
The Sheriff's Homeless Outreach Services team is a dedicated group of law enforcement professionals who are making a difference in the well-being of homeless people, one person at a time. The HOST team consists of a lieutenant, a sergeant and four assistants. Since its inception, HOST's mission has been to positively impact the homelessness crisis in Los Angeles County, while improving public safety and preserving the rights and dignity of homeless people. Their approach is simple but effective. Their outreach efforts involve reaching out to the homeless and helping them accept services such as transportation and resettlement, among others.
Sheriff Villanueva concluded the press conference by sharing that on Wednesday, June 23, 2021, he sent a letter to the Los Angeles County Board of Supervisors asking them to declare a local state of emergency regarding the homelessness crisis in Los Angeles County, saying, "Enough is enough. We need to step up a gear."
Full press conference
Click here to see the PowerPoint presentation of the conference – PDF (videos embedded below)
List of 501 organizations – PDF
PDF Expenses
BOS Letter – PDF
Homeless Expenses County / City PDF