Quiet seaside town alive on the Pacific coast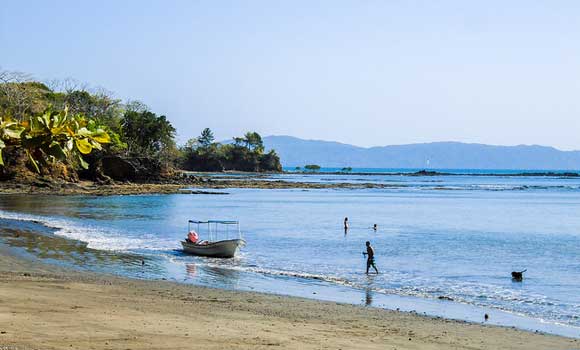 Santa Catalina is one of those secluded seaside towns with its own quiet charm. As you stroll through town along one of the two narrow streets, you come across young men with their surfboards under their arms, heading towards the break. Children on bicycles pass, avoiding a dog or two. The Santiago bus arrives and a few backpackers get off, hoisting their loads from the top of the bus.
A van moves forward as the driver announces the fresh produce he is selling from behind. "Piña of hay, melon, sandia and papaya. Hay cebolla, papa, tomato, y repollo, 'he said over a loudspeaker. Today it has pineapples, cantaloupe, watermelons and papayas, as well as onions, potatoes, tomatoes and cabbage. The road ends at the beach, where you can see locally owned fishing pangas anchored just offshore, and the view stretches out to the endless horizon.
There is more than one Santa Catalina in Panama, and the one I visited is at the southern end of the province of Veraguas. It is located west of the Azuero Peninsula, along the Pacific coast of Panama, near Coiba Island, the largest island in Central America. The southern exposure and protected shoreline originally attracted fishermen looking for tuna, snapper, marlin, sea bass and other specialties. Surfers discovered the consistent breaks decades ago and have kept the area a closely guarded secret. Divers began to visit once Isla Coiba opened as a diving destination in 2005. Today, Santa Catalina still attracts fishermen, surfers and divers, as well as tourists and expats who want to go out. off the beaten track.
To get there, take the Pan-American Highway to Santiago and then head southwest to the town of Soná. The trip from Panama City takes about five hours in a rental car, and there's a shorter route from David that bypasses Santiago. Regular bus service is reliable and inexpensive between Panama City or David and Santiago, then to Soná and Santa Catalina.
With a full-time population of around 400 and maybe 50 expats, Santa Catalina is very small. The village itself consists of two roads: one brings you into town and takes you to Santa Catalina beach; the other turns left and winds around, ending at Estero Beach. Dive shops, two grocery stores, an elementary school and a few surf shops make up the mall. A number of guesthouses, hostels, hostels and surf camps offer accommodation and a surprising variety and number of restaurants serve good meals.
Until recently, Santa Catalina wasn't even on anyone's radar. In recent years, improvements in infrastructure have made it a more passable destination, including more reliable mobile phone and internet services, better roads and promotion of tourism. Still, it takes an adventurous spirit to adjust to life in Santa Catalina – you won't find fast food, no bank or ATM, no gas station, no deli. You will find a welcoming community in a picturesque seaside location with a laid back lifestyle and a youthful outlook on life.
Because it is such a small village, real estate offers are limited and there is no real estate agent in town. Through local contacts, I found a newly built two bedroom, two bathroom home ready to move in, listed for $ 219,000. Built to North American standards, it features granite countertops, wood finishes, an upstairs loft and a private back patio.
Sometimes existing homes come on the market and you might find good value for money if you're interested in upgrading a typical local home. For a purchase price of around $ 70,000 and an additional investment of around $ 30,000 for renovations, you could have a beautiful two bedroom home on a lot near the beach.
With few new and resale homes on the market, a better option may be to purchase land for your custom home. City lots are available for $ 40,000 or $ 45,000 with larger lots outside of town.
The price depends on the location, of course, with waterfront properties commanding higher prices. For a total investment of $ 150,000 to $ 200,000, you could have your own land with a custom built home in this peaceful seaside town.
Here's an insider's tip – it's a good idea to insure your own water source, such as a well and storage tank. The local water association is informal and you will want to have your own reliable water supply. Also make sure that the location you are interested in has good electrical service and good cell phone reception.
There is a decent range of rentals on offer so you have a place to stay while your dream home is under construction. You'll find rentals in and around town ranging from $ 350 for basic accommodations to $ 1,000 per month for more attractive locations, utilities included. Expect properties with the most awe-inspiring views to carry the highest price tags.
Get your free report on your dream home abroad now

Subscribe to FREE Your dream home abroad e-letter and get a valuable report (free for a limited time) on the 15 best places to invest in real estate in 2021.