Premium Tent Camping Comes to 4 West Virginia State Parks |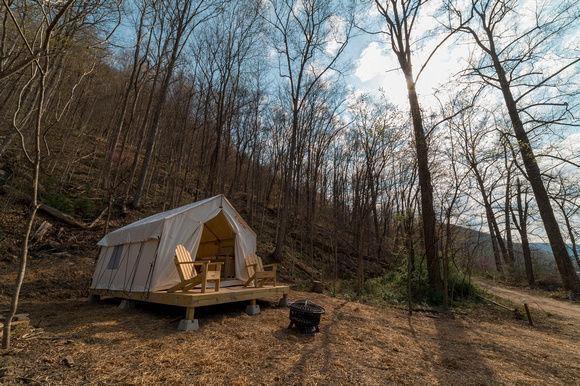 Campsites with pre-pitched canvas wall tents on the deck equipped with queen memory foam mattresses, side tables, propane heaters and solar showers are now available at Hawks Nest State Parks and Cacapon. They will also welcome guests from June 14 at Lost River and Blackwater Falls.
"This new camping experience is one of the many ways West Virginia and visitors to our state can enjoy the incredible state parks we have in our backyard," Governor Jim Justice said Thursday in announcing new state park premium campsites.
The new sites are offered as part of a public-private partnership between West Virginia State Parks and Tentrr, which offers more than 1,000 campsites with online reservation in 43 states through agreements with private landowners, groups of conservation and state park systems from Maine to Utah.
Tentrr was founded in 2015 by Michael D'Agostino, former CEO of the New York Stock Exchange.
"West Virginia is known for its outdoor adventures, and we're making the experience of sleeping under the stars and enjoying nature better and more accessible for everyone," said Todd King, vice president of marketing by Tentrr.
Tentrr's stated mission is to provide a ready-to-go campsite with "less roughness and more fun".
The new Tentrr campsites in West Virginia State Parks rent $ 85 per night, with minimum two-night stays required on weekends. In addition to the spacious and sturdy wall tents, many sites include smaller pop up tents for additional guests who bring their own air mattresses or sleeping pads. Most sites accept pets.
The raised decks supporting the wall tents are fitted with Adirondack style chairs. Each site also includes a picnic table with benches, a cooking grate, a fire ring, and a portable camp toilet with privacy tent, in addition to the existing state park restrooms.
At Hawks Nest State Park, where camping has not been offered until now, eight new Tentrr campsites are available. Seven sites overlooking Hawks Nest Lake are scattered along a 0.22 mile trail between a lower parking area near the park dock and the Hawks Nest Dam. The eighth site, a double, offers the most secluded campsite in the park on a point overlooking Mill Creek, just above its confluence with the New River / Hawks Nest Lake, not far from the lower tram station.
Eight Tentrr sites are also available now in Cacapon Resort State Park, while 21 additional campsites will soon be available in Lost River and Blackwater Falls State Parks.
Upscale camping options have arrived in West Virginia "at an ideal time to align perfectly with post-pandemic traveler trends," said Secretary of the Department of Tourism Chelsea Ruby.
The photos and descriptions of the new campsites can be viewed, their availability determined and reservations made, by visiting wvstateparks.com or tentrr.com/wvsp.