'Operation Charlie Horse': Rhode Island State Police arrest three at Woonsocket Motorcycle Club
---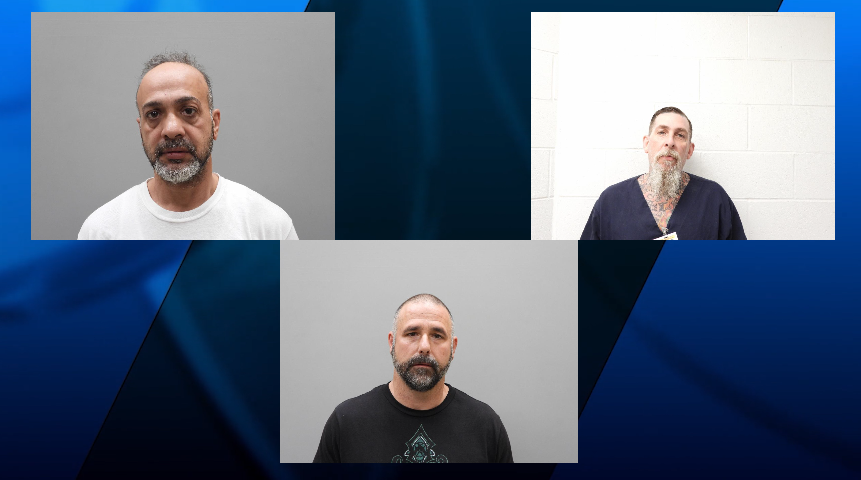 PROVIDENCE, RI (WLNE) – Rhode Island State Police said Tuesday they arrested three people at a motorcycle club in Woonsocket.
State police said the arrests were the result of an investigation called "Operation Charlie Horse."
Two members of the Outlaw Motor Clubhouse on Fabien Street, Allen Stilkey, 50, and Kurt Charbatji, 47, were arrested. A non-member, Carlos Garcia, 51, was also arrested.
Investigators executed 12 search warrants at the motorcycle club, as well as vehicles, homes and electronics.
During the searches, the investigators seized:
A pound of methamphetamine
52 sheets of LSD
16 vials of steroids
118 grams of cocaine
78 grams of crack
12 grams of fentanyl
Bullet proof vest
Approximately $4,000 in cash
Stilkey faces the following charges:
Two counts of possession with intent to deliver a Schedule 1 controlled substance, cocaine
One count of possession with intent to deliver a Schedule 1 controlled substance, methamphetamine
One count of possession of a Schedule 1-4 controlled substance, Adderall
Two counts of possession of a controlled substance schedule one, one ounce to one kilo of cocaine
One count of possession of a Schedule 1 controlled substance, one ounce to one kilo of methamphetamine
One count of possession with intent to deliver a program of three controlled substances – anabolic steroids
Affidavit/Warrant for Conspiracy to Violate Controlled Substances Act
Charbatji faces the following charges:
One count of possession of an appendix one to four, LSD
A head of possession of a bulletproof vest
A leader in obstructing the justice system
One count of conspiracy to violate the Controlled Substances Act
Garcia faces the following charges:
One count of possession of a Schedule 1 controlled substance, one ounce to one kilo of cocaine
One count of possession with intent to deliver a Schedule 1 controlled substance, fentanyl
Domestic Violence Prevention Affidavit/Warrant-Breach of No Contact Order
One count of conspiracy to violate the Controlled Substances Act