Obituaries October 6, 2021 | Georgetown Times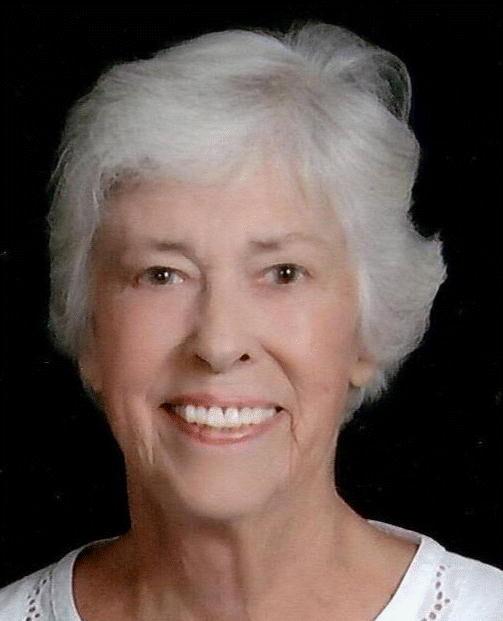 Essie Blalock
Essie Jeter Blalock, 79, wife of George Robert Blalock, Jr., passed away peacefully at her home Tuesday evening, September 28, 2021.
She was born in Columbia, SC, the daughter of David Gilliam Jeter and Vera Johnson Jeter. She is survived by her husband, a daughter, Elizabeth B. Gibson (Chad) and her grandchildren, Brooks and Christopher, as well as a brother, David Gilliam Jeter (Nell) and several nieces and nephews. She was predeceased by her parents, as well as two sons, George Robert Blalock, III and David Jeter Blalock.
She graduated from Dreher High School, where she was known as "Jeter the Jet" due to her athletic prowess. She graduated from the University of South Carolina with a BA in Business Administration.
She met her husband George on a blind date in 1964 and it was love at first sight. They married in December 1965, when George was finishing his medical studies. They spent a year in Seoul, Korea and a year in Fort. Jackson while George fulfilled his service obligation.
They moved to Georgetown in 1972, when George joined William Armstrong and James Forester to perform general surgery.
Essie loved life and adventure – she was a genuine Christian and never hesitated to share her story of redemption. She leaves a legacy of bold and unapologetic love – for family and for Jesus.
Memorial services will be held at 11 a.m. on Monday, October 4, 2021 at Pawleys Island Abbey. A reception will follow immediately after the service in the church library. Interment will be private.
The family suggests memorials to: Pawleys Island Abbey, 46 Gathering Ln, Pawleys Island, SC 29585 or a charity of their choice.
Please sign a guestbook at: www.mayerfuneralhome.com.
The Georgetown Chapel at Mayer Funeral Home helps the family.
John blakely
John "Johnny" Henning Blakely, Jr. ("Biddy"), 63, passed away on Tuesday, September 21, 2021 at Grand Strand Medical Center.
Mr. Blakely is the son of the late John Henning Blakely Sr. and the late Louise Howard Blakely on January 24, 1958 in Georgetown. He was the firstborn of four siblings, Sharon, Robin, Merlon and Terence. He graduated in 1976 from Andrews High School. Growing up, he attended and was part of the families of Andrews First Baptist Church and Trinity United Methodist Church. He was a first degree mason and a member of Harper Lodge # 225. He enjoyed fishing, hunting especially duck hunting, riding his motorbike, car racing with Rocky Watford Racing and was an avid fan of USC Gamecock. His smiles were contagious and lit the paths of everyone he met. He was a devoted son, a loving father, a cherished brother and a faithful friend.
He is survived by: his mother; two children, Morgan Olivia Blakely and John "Jack" Henning Blakely III; four siblings, Sharon Coker (Ansel), Robin L. Blakely, Merlon Blakely (Nicky) and Terence Blakely (Rebecca); the mother of his children, Tracy Blakely-Griffith; and her furry baby, Taff.
He was predeceased by his father.
A funeral service will be held at 2 p.m. on Saturday, September 25, 2021 at the Andrews Memorial Cemetery run by the Andrews Chapel at McKenzie Funeral Home.
The Blakely family will receive family and friends from 5 pm to 8 pm Friday evening, September 24, 2021 at Saw Mill Pond Vineyard, 201 S. Olive Street, Andrews.
McKenzie Funeral Home is honored to serve the Blakely family.
Earmon Howard
Earmon Whitley Howard, 79, widower of Judy Marie Bowles Howard, returned home to be with the Lord on Friday, September 24, 2021 at his residence
Mr. Howard was born the son of Louie Christopher Howard and Ellen Agnes Howard on June 16, 1942 in Andrews. He was a retired Santee Cooper employee and was a United States Navy veteran. On August 5, 1979, he joined the family of the Pentecostal Church of Antioch. For over 42 years he was a deacon, secretary and treasurer, teacher, singer, cook and worker. He loved the Lord above all else and was a faithful servant. He loved gardening and was avid football and baseball. His laughs, smiles and stories touched the hearts of everyone he met. His greatest joy and greatest love in life was to be a devoted husband, loving father, cherished dads and dads, a caring brother, and a loyal friend.
Earmon and Judy married on January 1, 1968 and celebrated 41 years together. Their home has been blessed with: two children, Veronica Evans (Tony) and LaDonna Gail "Gertrude" Howard; three grandchildren, Autumn Chessnee "Shugga Bugga" Evans, Dawson "Daw" Evans and Maddux "Knuckle Head" Evans; and a great-grandchild, Terry Eugene Graham. He is also survived by: three brothers, LC Howard (Kitty), Elbert Howard and Roger Howard (Christine); one sister, Linda Feathers (David); many nieces and nephews; a special godson, Jason Nesbitt; loved as her own granddaughters, Leah Poston (Jacob) and CarrieBeth Moore; and loved as his own daughter, Jessica Jones (Daniel).
He was predeceased by: his parents; his wife Judy; two brothers, Cecil Howard and DC Howard; four sisters, Barbara Howard, Eloise Taylor, Virginia Ackerman and Rena Lee Mullins; and two sisters-in-law, Sherrill Howard and Janie Howard.
A homecoming celebration will take place at 3 p.m. on Sunday, September 26, 2021 at the Pentecostal Holiness Church in Antioch. Officials will be Pastor Jeff Goude and Reverend Jay Weatherford. Interment led by McKenzie Funeral Home will follow in Lake City Memorial Park.
The Howard family will receive family and friends before the service from 1:30 p.m. to 2:30 p.m. in the church sanctuary.
Memoirs can be made at the Pentecostal Holiness Church of Antioch, PO Box 901, Andrews, SC 29510.
McKenzie Funeral Home is honored to serve the Howard family.