Melbourne boys camps in the backyard for vacations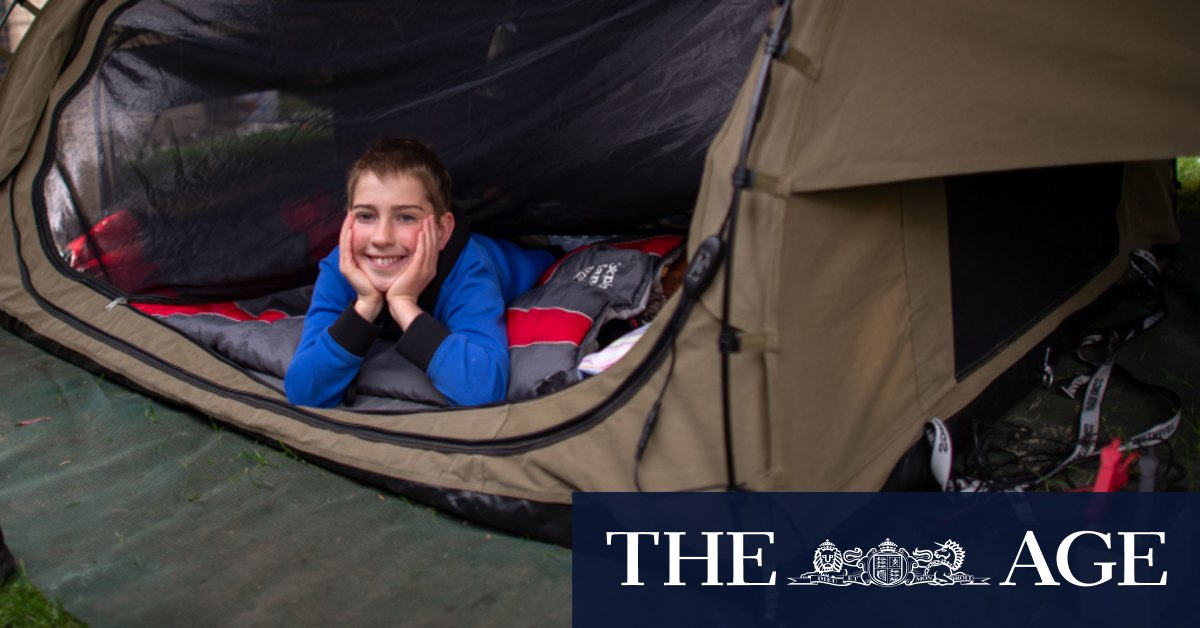 She says Aidan's little project has been a welcome moment of light. "In all the pessimism with the news, it's something a little uplifting."
"It makes me feel like I'm camping and it keeps me from thinking about the lockdown."

Aidan
And Aidan is a seasoned camper. From the age of eight weeks, the family has ventured throughout Victoria and to the Hay Hinterland in NSW, Uluru and Birdsville.
For two weeks in September 2020, Aidan and his brother, Jack, slept in a trailer in the front yard of their house and had a blast, so the family this year suggested the couple camp out in the back yard.
"We had not left in the [2021] July school holidays, "says Paula. "My stepfather was deceased and we didn't take our usual camping vacation.
"We needed something to break the monotony of the lockdown, give them something different because they can't go anywhere and do anything. "
But as Jack returned to his room after the first two weeks, Aidan persevered.
"Aidan says, 'I'll never come back inside,'" says Paula. "We have the tarp in place, which prevents the rain from falling. And he likes the cold, so there hasn't been any drama in that regard. I think it's something he's doing to not think about containment. "
She says Aidan never gave in and slept in her room. "It's every night outside. He likes it. "Paula says, when they hear about it," people say, 'Really? Is he sleeping outside, all alone?
"But we've been to such remote places, it's nothing. And in the swag, it's pretty hot. "People are going, 'What is he doing? He can't watch TV 'and I say,' My kids have never watched TV when they're in bed, so that's no different. ' "
Loading
Aidan can read a book by torchlight "but usually he jumps up in bed and falls asleep".
Paula says sleeping outside gave him confidence and had a lot of fun.
"What could be the harm? It's a little adventure of his own that he will always remember … "
Aidan says, "I thought it was a good idea because I just like sleeping outside. "
He would recommend it to other children. "It's a fun thing to do. You don't have to sleep indoors over and over again, "he says. "You can sleep in a different place for once."
Need some good news? The bulletin of the greatest good delivers stories to your inbox to brighten up your outlook. register here.