Lawson: Dream Big Burnside Generates Positive Buzz | New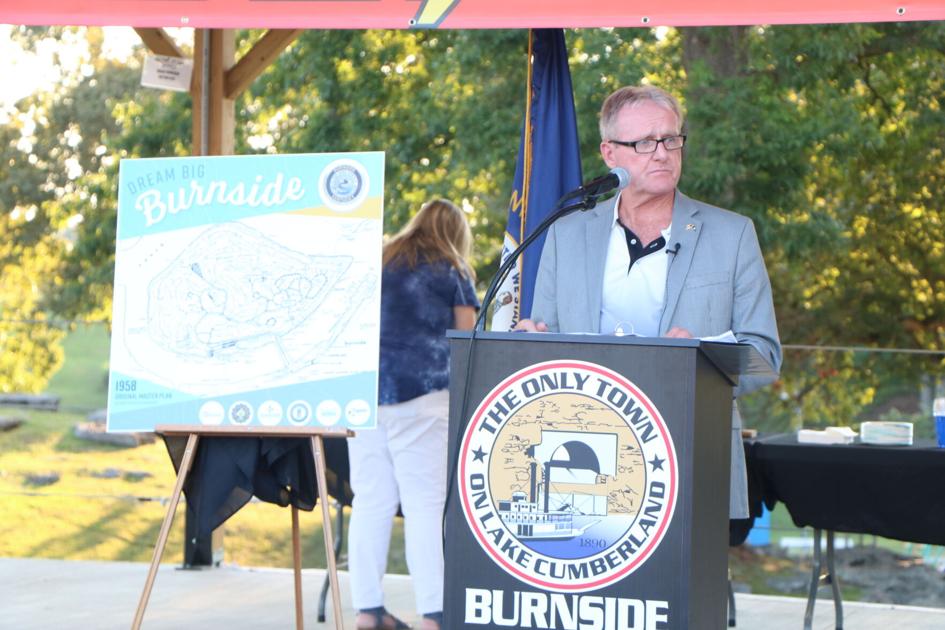 Dreams are bigger in Burnside.
That was the spirit last week in "the only town on Lake Cumberland", when Mayor Robert Lawson announced the formation of the Dream Big Burnside Authority, an organization meant to help develop the city and maximize its profits. tourist resources – in particular, General Burnside Island State Park, where talking about a lodge has been a dream for decades.
However, Dream Big Burnside President Chris Girdler vowed to "aggressively pursue" this goal, especially since it was part of Burnside Island's original vision as a state park in 1958. And those leading the charge of Dream Big Burnside have a lot more ideas in the tank, too.
And according to Lawson, people were thrilled to hear it.
"I have only heard positive comments about it," Lawson said. "Everyone is excited. He says it's well overdue.
Certainly, last Tuesday's announcement drew a large crowd in the parking lot outside Burnside Town Hall, eager to hear what local leaders had in store. One person specifically asked about a lodge, which led Girdler to confirm that this is what Dream Big Burnside is looking for; Lawson told the Commonwealth Journal on Monday that much of the discussions he heard following the meeting also concerned the possibility of a lodge.
"That's the big question, 'Is there going to be a lodge?' "Are you going to fix the pool?" "The answer to that is, yes, this is what we want to see happen. We want to see a lodge and a conference center, maybe with an indoor pool, an outdoor pool.
Things will really kick off next month. Lawson said the Dream Big Burnside Authority is expected to hold its first meeting in late October. The first steps will be the election of officers and the adoption of bylaws. Once that is done, they will have to enter into an interlocal agreement with the state government allowing the authority to move forward with a public-private partnership.
"Once the state signs on, we're ready to start looking for investors," Lawson said.
What's different this time around from all those failed attempts in the past to spark interest in a lodge on Burnside Island? On the one hand, while the lodge is definitely part of the package, that is not the only goal of Dream Big Burnside. In fact, some of the space they will present to investors is not even on the island.
"We have private land involved this time around," Lawson said, noting that the additional land in question is across the highway from Burnside Island. "If an investor wants square footage, whether it's cabins or an RV park, we have just a little more to offer than they can choose from.
"We are going to really push the recreation this time too," he added. "We would love to see the beach come back (on Burnside Island). We would like to have things like horseback riding. This is what we hope for.
Burnside Island Beach, while never exactly what one might find in Florida or Malibu, was a big attraction that people of a certain age will remember; in decades past, people hung out on the sandy shore as they would by the ocean. It has not been accessible as a beach since Lake Cumberland was lowered for repairs to the Wolf Creek Dam about a decade and a half ago, however, and even then that was not what he was in the glory days of the past. – something many Pulaskans still remember.
Ultimately, however, what gets developed will belong to other parties. Lawson said Dream Big's goal is to share with investors what the authority's vision is, but they also want investors to tell Dream Big what they want to see and what they want to invest in.
"The bottom line is that you don't want to do anything that could damage the golf course or the campsite. We want to improve that, "said Lawson, who noted that Mike Lynn, Director of Burnside Island and former Burnside City Councilor, is" excited "about the plans for the island.
The land just south of Burnside which was recently annexed also plays a role – the order was approved last week to travel approximately three miles beyond the Burnside border to "just past" Keno Road. Lawson had spoken very vaguely in the past about giving the town a chance to grow, but now that Dream Big Burnside's cat was out of the bag he could talk more specifically about annexation.
"This is the reason why we were going south," he said. "When that grows, I hope it brings businesses. I would like to see a discount mall enter (for example). We're just limited to Burnside in area right now, we don't have room to put something like that.
The surrounding counties could also benefit from the hoped-for tourist influx. Specifically, development south of the current Burnside borders could affect McCreary County; Lawson said he didn't speak much with officials there, but said he communicated more with Wayne County executive judge Mike Anderson about plans for the city.
"Justice Anderson is also excited about this because he understands that it's not just (about) Pulaski County, it's our entire region and our entire state," Lawson said.
In the announcement last Tuesday, Lawson also referred to Somerset City's development plans with the Horse Soldier Bourbon Distillery, further associating Dream Big Burnside's synergy with tourism across the region – something bolstered by the Attendance Michelle Allen is the Executive Director of the Somerset-Pulaski County Convention and Visitors Bureau.
"This project will not be limited to Burnside. It won't just be Somerset. It won't just be Pulaski County. It will be statewide, out of state, "Lawson said during the announcement. "… When we put it all together, it will be the tourist destination." "