Island hopping in Hawai'i by plane during COVID-19
---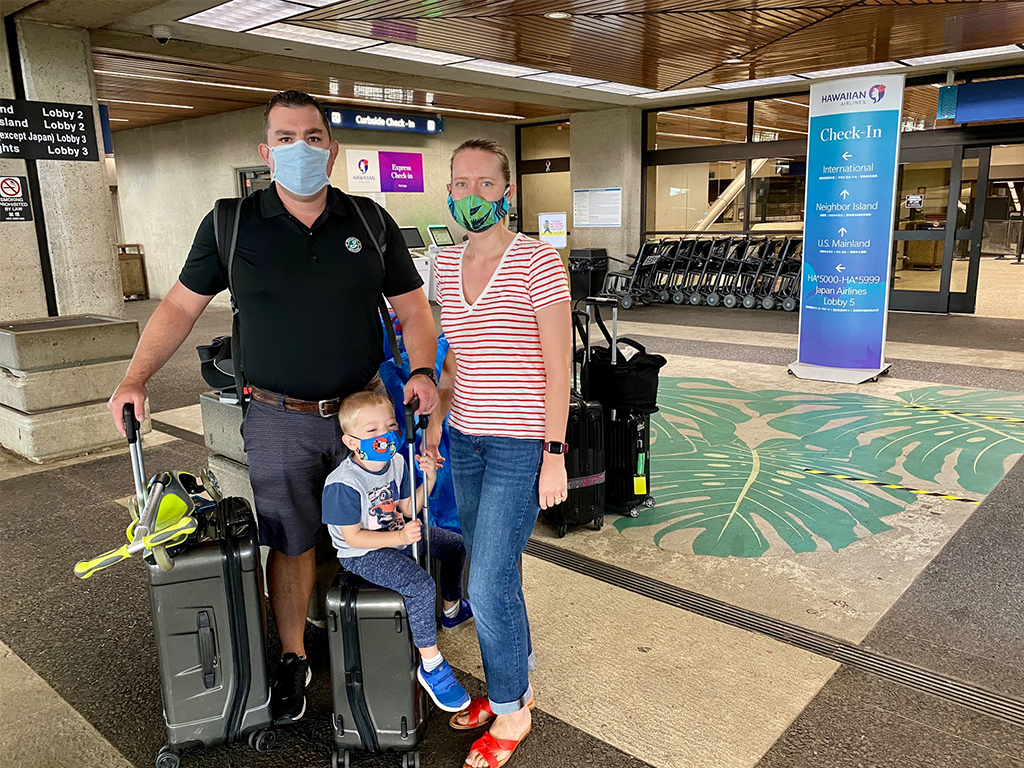 From health forms and temperature scans to face masks and boarding, here are seven things you need to know when traveling with children during the coronavirus pandemic.
This article was originally published on June 24, 2020.
AAs soon as we were free to go island hopping without a 14 day quarantine, my family boarded a flight from Honolulu to Kona. After months of being locked away in our Kaka'ako condos, my husband, our 3 year old son, Duke, and my mother in law were eager to escape the city for the great outdoors of the Big Island. It was a trip we were supposed to take on Easter weekend and looked forward to postponing it.
As if traveling by plane with children isn't stressful enough, add a pandemic to it.
Getting on an airplane is now even more complicated with new form, ever-changing policies, and uncomfortable, albeit necessary, procedures to maintain our health.
In the days leading up to our flight, questions kept me awake at night: Will Duke keep his mask on? How can I keep him from touching everything? What if another passenger coughs on the plane? To ease my anxiety, I over-prepared by washing our face masks, packing wipes and hand sanitizer, and researching the new travel rules.
On D-Day, we arrived at the Hawaiian Airlines inter-island terminal around 7:30 am, 90 minutes before our departure. I was relieved that the airport was not busy, which allowed us to check in our bags, go through thermal screening and complete the new travel form at our own pace.
When the uniformed National Guard soldier checked Duke's temperature with a hand-held thermometer, he wasn't nervous and instead threw an excited shaka as we walked over to the travel form line. We made our Hawaii State Travel Health Forms and were exonerated. FYI: they call your cell phone on the spot to verify the number you wrote on the form. Then we walked through TSA and were at our door in 20 minutes.
In fact, the longest queue we encountered at the airport was for Starbucks!
We had a snack and used the terminal toilets (they were clean!) Before boarding to avoid removing our masks and circulating on the plane during the flight. Attention all stressed parents: alcoholic beverages are temporarily unavailable for purchase on Hawaiian Airlines.
Instead of zones, Hawaiian Airlines now embarks passengers from the back of the plane. When we booked our flight and chose the seats a few weeks in advance, I was encouraged that the airline security procedures indicated that the middle seats were locked to promote social distancing, so that our family does not have to share our argument. In fact, Hawaiian Airlines has stated that it 70% limiting capacity during this time.
However, when we boarded the plane, I was immediately surprised by the congestion on the plane. It was not what I expected or prepared for! Rows one through nine were completely full to 100% of their capacity. And guess what? We were seated in row seven, totally surrounded by other passengers, including a stranger in our supposedly stranded middle seat.
Looking back, I noticed that the travelers were more dispersed, and that, indeed, the middle seats had been blocked. Unfortunately, he was too close to take off to do anything. We tightened our masks, wiped every inch of the seat, buckled our seat belts and hoped for the best.
I was so proud of Duke for wearing his mask, for not having a fit when I turned down the free POG juice, and for putting up with constant hand sanitizer (we call it slime to make it fun) . Super Wings the episodes on his iPad kept him still and entertained all the time. Thank goodness it's a short flight! And while I've always thought that arriving on the outside tarmac at Kona Airport was hot, humid, and noisy, I've never enjoyed the immediate dose of fresh air and sun so much as this trip. We created it!
Our seven tips
1. Fly first. If you're an early riser and a germaphobe (who isn't these days?), Consider booking the first flight of the day. Hawaiian Airlines cleans Neighbor Island flights between trips, but sprays the plane with hospital-grade disinfectants each night. You can read more about the airline's cleaning procedures here.
2. Select your seats. Choose a window seat or where you can be furthest away from other passengers. Avoid an unexpected seat situation, like the one I encountered, by confirming your seats with the boarding agent before boarding.
3. Do your prep work. To avoid delays and stress at the airport, print and complete the Hawaii State Travel Health Form at home 24 hours before your flight. This new form is mandatory for all inter-island trips as of June 16. Everyone needs their own form, including infants and children. Read the faq.
4. Find comfortable masks. Face masks are required inside airports and on Hawaiian Airlines flights. Young children unable to keep their masks on and people with health problems or disabilities that prevent the use of masks are exempt. Children under 2 years old should not wear a mask. To verify those advices on how to get your keiki to keep their masks on.
5. Pack cleaning supplies. I was impressed to see hand sanitizer stations all over the airport terminal. The TSA also currently allows passengers to bring up to 12 ounces of liquid hand sanitizer in carry-on baggage. Although a flight attendant gave us a hand towel upon boarding, it was tiny and fragile. I brought my own can of Lysol wipes to disinfect our seats, trays and armrests.
6. Put away snacks. Bring easy-to-eat snacks, such as granola bars or sandwiches that don't require you to come into contact with an airport table or an airplane tray table. Starbucks was the only dining establishment open in the inter-island terminal when we traveled. The remaining Hawaiian Airlines Premier and Plumeria restaurants and lounges have been closed.
7. Check your luggage and your expectations. You can do all the research and preparation, but be aware that there is bound to be some turbulence, whether it's a change in policy, a long line-up, or a tantrum at home. toddlers. When you reach your final destination to reconnect with family or visit a favorite place, you will remember that it is well worth it.
If you are wondering if you have to travel this summer, This article is insightful for parents on weighing the risks. The decision to travel during the COVID-19 pandemic is a personal one, and only you know what's good for your family. As travel guidelines, notices and procedures are constantly evolving, stay up to date with information from the American Centers for Disease Control, the Hawaii State and your airline before your trip. Have a good trip !