Greek island hopping in an electric plane will become a reality by 2026
---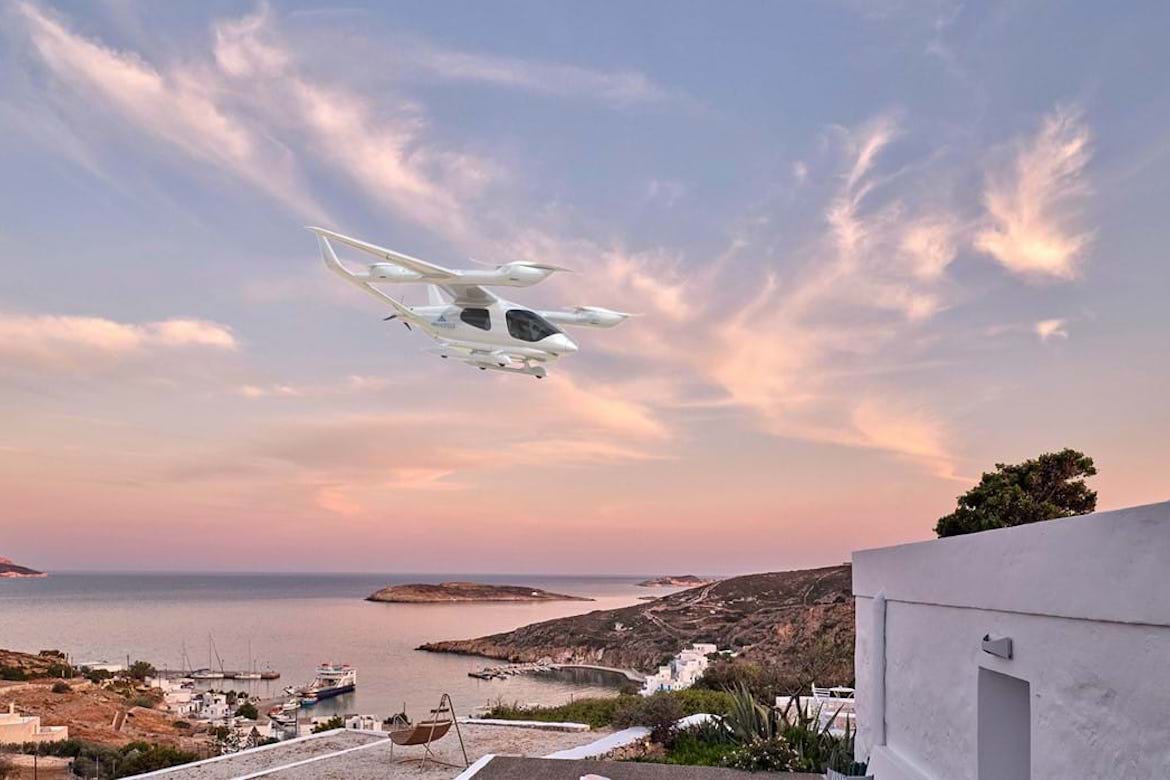 Tourists will be able to hop between Greek islands like never before in 2026, thanks to a new technological development from a hotel company in Greece.
Aria Hotels has announced a first-of-its-kind agreement with LCI, a leading airline, to provide guests with access to electric vertical take-off and landing aircraft.
These highly innovative vehicles will expand visitors' opportunities to experience Greece in an entirely new way. Aria aims to have 10 of the new high-tech aircraft in its fleet by 2026.
In addition to serving guests, the vessels will be used to serve the wider community by transporting time-sensitive cargo in a greener, faster and more affordable way.
"Aria Hotels is proud to bring this future-proof aircraft to Greece, which promises to revolutionize travel for vacationers who want to explore authentic Greek culture," said Aria Hotels CEO Makis Pantazatos.
"We are delighted to offer this experience unlike any other to future guests of Aria properties across Greece, whether in Athens, Euboea, Cyclades, Crete, Epirus, Peloponnese or Sporades and the Ionian Islands," Pantazatos said.
All-electric ALIA aircraft are net-zero carbon and designed to carry five passengers and one pilot, or 1,400 pounds (635 kg) of cargo. They offer a maximum autonomy of 250 nautical miles and the possibility of recharging in less than an hour.
Aria's decision to lease the aircraft marks a breakthrough in the global hospitality industry while advancing ecotourism in Greece. The company plans to partner with a local Greek airline to operate the aircraft.
Aria is a boutique hotel group with 50 properties across Greece that is known for curating authentic experiences. The company searched for a variety of properties, including renovated windmills, large restored villas steeped in history and "undiscovered gems" found off the beaten track, as well as other family hotels.
Aria is one of the hotel subsidiaries of the Libra Group, a group of private companies whose subsidiaries own and operate assets in nearly 60 countries.
"We are very proud that Aria Hotels is the first hotel group in the world to offer the use of eVTOL, which brings this revolutionary technology to Greece, supporting the environment and the economy," said George M. Logothetis, President -CEO of Libra Group. said.
"As a global organization, the Libra Group and our subsidiaries are committed to reinventing our business through the lens of environmental impact and innovation to contribute to a better future," Logothetis said.
"We look forward to supporting synergies within our organization and deploying truly sustainable technology for air mobility that protects our future," he said.
"LCI is honored to support the launch of this game-changing eVTOL strategy for the hospitality industry and to help Aria Hotels develop this innovative and sustainable transportation operation for their guests as well as the wider Greek community," said said Jaspal Jandu, CEO of LCI. .
For more information about Aria Hotels, visit the company's website.
---
Is The Pappas Post Worth $5 A Month For All The Content You Read? Every month we publish dozens of articles that educate, inform, entertain, inspire and enrich the thousands of people who read The Pappas Post. I ask those who frequent the site to participate and help keep the quality of our content high and free. Click here and start your monthly or annual support today. If you choose to pay (a) $5/month or more Where (b) $50/year or more you will then be able to browse our site without any advertising!
Click here if you would like to subscribe to The Pappas Post weekly news update