Flathead Lake: Island Hopping in Montana's Beautiful Islands
---
Usually when Montana comes, the mind wanders to the great outdoors: wandering bison, quivering grass on the windswept plains, a few national parks and a fringe of magnificent peaks. They're right there in the name, after all, derived from the Spanish montaña, or mountain.
But on this cool, misty September morning, as I kayak a few minutes from the town of Kalispell, I look at a different kind of landmass, something unusual for this landlocked state. Here on crystal-clear, glacier-formed Flathead Lake ("the largest natural freshwater lake west of the Mississippi," they say), there are islands, dozens of them, punctuating the 28 mile long waterscape. Some are dotted with sprawling properties, like the one currently home to Montana's largest private estate. Others provide refuge for wild horses and gigantic bighorn sheep. There are Airbnbs for rent with private docks, and even a scandal-ridden castle. And all of them are easily accessible by boat. (But maybe stay away from the latter.)
I pull my kayak up to a particularly small rock mass not too far from shore. I spot a few tree shoots and the iron-colored remains of what appear to be native pictographs on the side of a rock. "We call it Gilligan's Island because when you paddle it feels like the smallest patch of land in this vast mountain vista," says my guide, Shelby Horton.
The most widely accepted name for said point is Invitation Island, and Horton urges me to get out of my kayak and jump out. This is what is done here, apparently. "Because it's quite accessible, people throw raves and parties there," she says. "It's a good place to snorkel because you find a bunch of stuff that people have dropped in the water. Once I stopped at a pontoon boat full of kids – they found three watches.
But while Invitation Island is relatively sparse, the jewel of the lake is an enclave about two hours away by kayak: the 2,164 pristine acres of Wild Horse Island State Park.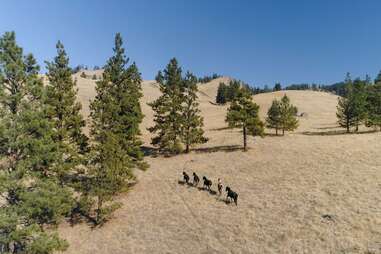 Imagine a slice of Montana: native grasses and ancient ponderosa pines, apple orchards and soaring trees, hiking trails and climbable rocks. And wildlife, of course – mule deer, bighorn sheep, bald eagles, yellow pine chipmunk and wild horses. Now imagine it abandoned in a gigantic body of water, bordered by miles of shoreline.
This is Wild Horse Island, the largest land mass on Flathead Lake, first occupied by native inhabitants who brought the namesake horses there to save them from being grabbed by hostile tribes. (For some transfers, the horses swam in from nearby Cromwell Island. Paddling horses!) Today, Wild Horse Island is a state park, primarily owned and operated by Montana Fish Wildlife and Parks and located in the outer boundaries of the Flathead Indian Reservation. Overnight camping is not allowed, but you can take a day trip at your leisure.
Here, without any predators, the animals thrive. And that often means they get really, really big: the largest bighorn sheep skull ever recorded has been found on Wild Horse Island. It's now in a museum, but you can still see a few that rival its status. Thanks to its protected status, Wild Horse Island is similar to an archaeological site.
"Since you can't take anything off the island, there are so many bones," says Horton, who regularly leads kayak tours at Wild Horse. "You can just see where a bighorn sheep or a mule deer found a nice little shady spot and died. And just looking out into the field, you can see live bighorn sheep and mule deer walking together.
Don't get too big ideas about grabbing a souvenir. "They microchip the really big skulls and bones so people don't take them off the island," says Horton. "There's one under a tree near the bathroom that I point out to the groups. I know they're not going to bring him back with them, because they should put him in a kayak!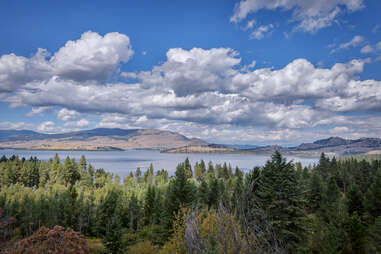 Montana residents love their state parks; Wild Horse Island is just one of 55 massive islands in the state. Six more, each with their own personality, lie around the perimeter of Flathead Lake, including the latest, Somers Beach State Park, which joined the fold earlier this year. During the colder months along the northern shore, the water dips and a sandy beach emerges for daytime recreational activities, which means that depending on the time of year, the size of the park varies from 55 to 106 acres.
Other parks include Big Arm, with its pebble beaches, junipers and mature ponderosa pines; West Shore, with rocky outcrops carved by glaciers and hidden pockets for camping; Travelers, laden with cliffs and wildflowers near Bigfork; and Finley Point, offering camping and hiking a stone's throw from Polson on the Flathead Indian Reservation, home to the Confederated Salish and Kootenai Tribes, which also owns and operates the hydroelectric dam on Flathead Lake.
Finally, there's Yellow Bay, which drops you right in the heart of Montana's sweet cherry orchards. A summer visit to the lake wouldn't be complete without sampling the coveted Flathead Lake cherries: juicy varieties are grown in the fertile soil around the lake and harvested from mid-July to mid-August. Just look for the fruit stalls or find yours at one of the nearby U-Pick orchards.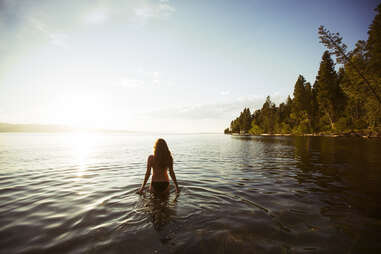 To book an excursion with Horton at Sea Me Paddle (season resumes June 2023), base yourself in Kalispell, a town steeped in Western tradition with an eye to Montana's rapid growth. Drop your bags at the Kalispell Grand Hotel, dating back to 1912 and former haunt of cowboy painter Charles Russell, then shop for gear on Main Street at Western Outdoor, grab an egg custard at old-school Norm's Soda Fountain and throw your peanut from the seashells on the floor of Moose's Saloon pizzeria (it's okay, they tell you to).
And if you're out there this month and feel the urge to lean into Spooky Season, keep an eye out for the famous Flathead Lake Monster. The lake's most mysterious resident traces its roots to native lore, and today, he's become so ingrained in local culture that a pizza is even named after him. Those who have seen the monster describe it as resembling anything from a large fish or snake to an undulating creature with bumps, responsible for creating foot-high waves on the still surface of the lake. Horton, for his part, claims to be among the witnesses. "A few times it was super flat water, no boats or winds, and all of a sudden waves will come out of nowhere," she says.
For her, this usually happens in the channel adjacent to Wild Horse Island. So maybe these protected skeletons have a life after all.
Want more Thrillist? follow us on instagram, TwitterPinterest, YouTube, TikTok and Snapchat!
Vanita Salisbury is Thrillist's Senior Travel Writer. Catch her by Invitation Island, snorkeling in search of sunken treasure.