An island-hopping guide around New Zealand's North Island
---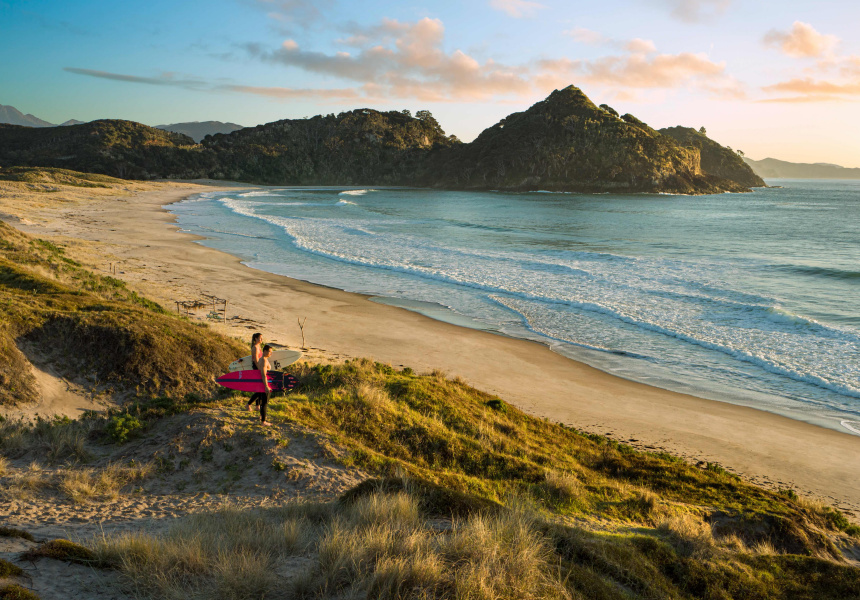 New Zealand's North Island is a land of geographic contrasts, stretching from the warm, subtropical north to the windswept Cook Strait near Wellington in the south. But dotted around its shores and in its lakes and harbors are hundreds of smaller islands, each with a different story to tell.
The Bay of Islands in the far north is aptly named, with countless overwater getaways on which to anchor a charter yacht. Many other islands, meanwhile, serve a conservation purpose, being predator-free havens for endangered birds and reptiles. Still others, like Waiheke Island, offer charming vineyards, gorgeous beaches and adventure tourism.
Best of all, each island is close enough to be accessible for day trips or weekend getaways. Here are six to discover.
Great Barrier Island
Known as Aotea by local Ngati Rehua residents, Great Barrier Island is New Zealand's fourth largest island (after North Island, South Island and Stewart Island ) and is easily accessible from Auckland via fast ferry (4.5 hours) or plane (30 minutes). The island guards the entrance to the Hauraki Gulf, creating a barrier against the heavy swells of the Pacific Ocean and facilitating safe passage for boats in Auckland Harbour.
It feels great, too. The sense of open space and wilderness is only heightened by the low population density. With around 1000 inhabitants, it sometimes feels like the only person here.
Strap on your backpack for hiking adventures including the 3-day Aotea Trail, stay in Department of Conservation (DOC) cabins, and admire the island's highest point, Mount Hobson (627 meters). If you prefer to keep things coastal, rent a car and hop on the beach to swim, surf or kayak. The white sand and calm water of Gooseberry Flat Beach is perfect for families, while Awana Beach is the surfers' choice and has a DOC campground.
The night sky becomes a starry dreamscape at Good Heavens, where you can stargaze from the sand dunes to the soundtrack of the sea. Blankets, "moon chairs" and even hot water bottles are provided on chilly nights. With no light pollution, the company has been awarded Dark Sky Sanctuary status – it is just one of three sites in Australasia to receive this honour.
End your weekend with a dip in Kaitoke's natural hot springs or go wildlife-spotting at Glenfern Sanctuary, an 83-hectare predator-free regional park that protects native birds and lizards.
Waiheke Island
Many Aucklanders still remember when Waiheke Island was a haven for Kiwis seeking respite from the big city. Locals have slowly made way for investors, with the idyllic island now one of the country's most sought-after destinations for holidaymakers and holiday home owners.
Just 40 minutes by ferry from Auckland's CBD, Waiheke Island is the smaller but more cosmopolitan cousin of Great Barrier Island.
Take a wine tour through New Zealand's 'Wine Island' and learn about its unique terroir and the techniques that go into producing (mostly red) wines that are winning over the world stage. Waiheke Wine Tours offers a daily tour departing from the ferry dock in Matiatia at 10:40am and can customize bespoke packages that can include lunch, a visit to a craft brewery or even a helicopter flight.
Charlie Farleys at Onetangi Beach is a longtime institution and the go-to spot for a coastal cocktail, delicious pub fare and live alfresco music, and if you need a bit of a workout afterwards , tour the island by e-bike to take the work off those hills.
Kapiti Island
A commanding presence off the coast of Kapiti, just north of Wellington, Kapiti Island is one of the country's first and most important bird sanctuaries. It took until the late 1990s for the rats to finally be eradicated from the island, allowing endangered native birds such as the saddleback and kokako to thrive. This is an off-grid island – to preserve the natural environment – and there are no shops, public roads or other infrastructure on the island, so be prepared.
Kapiti Island Nature Tours runs daily tours departing from Paraparaumu Beach at 9am and returning around 3pm. Tours include a 1-hour guided nature walk, close bird encounters, and cooked lunch (ferry ticket included). You'll learn about the steps New Zealand is taking to become 'predator-free' by 2050 and gain insight into the island's role in this quest.
If you prefer to go on your own, a round-trip ferry ticket costs $82 and includes an introductory talk from a guide. From the wharf, hiking trails lead through lush native forest to the highest point of the island, for sweeping views of the mainland and the peaks of the neighboring Tararua Range. The South Island may also be visible, depending on the weather.
For the full Kapiti Island experience, book a nighttime kiwi-spotting tour and give yourself the best chance of seeing the nocturnal bird in the wild. Accommodation is at a lodge in Waiorua Bay, on the northern end of the island, and includes a home-cooked meal and local wine and beer.
Kapiti Island has a long Maori history, being the base of famous chief Te Rauparaha, leader of the Ngati Toa tribe. Te Rauparaha used the island as a fortress to launch raids by sea on rival tribes and defend against attacks.
Bay of Islands
If New Zealand has a Whitsundays, it's the Bay of Islands. Close your eyes and think of the setting of your dreams – bush-fringed islands floating in subtropical waters, a sprinkling of yachts moored in calm bays and dolphins leaping over your bow as you sail to the next port, where good food and drinks in the bars of the bay await you. This is the Bay of Islands.
Hire a yacht from Russell or Opua and set sail on an adventure your own, zigzagging between over 100 islands, many with safe anchorages to arrive in the evening. If you're not sure if you can skipper your own boat, most charter companies – such as Fair Wind Charters – offer a skipper (and even a cook) to accompany you, but we believe the best pleasure is to s have fun with your own group (although some sailing experience helps).
The region is also steeped in history. New Zealand's founding document, the Treaty of Waitangi, was signed in the town of Waitangi in 1840. Moor your boat long enough to take an interactive tour of the Treaty of Waitangi grounds, watch a traditional performance at a marae (meeting house) and take in two museums and a waka (war canoe) carved from kauris – at 37.5 meters long, it is the largest ceremonial war canoe in the world.
Adventure seekers can try parasailing, while the more carefree can explore the boutiques of historic towns such as Russell and Kerikeri.
Matiu Somes Island
Wellington's geography is part of what makes the city so special. A ring of hills encircles a harbor, and in the middle of the harbor stands Matui-Somes Island, visible from the city as far as Petone on the north shore and Days Bay to the east.
It is therefore surprising that the island is often forgotten on many to-do lists when it comes to getting to know the capital of New Zealand. It's a quiet day-tripper's dream, close to the CBD.
The island was historically used by various Maori tribes as a strategic stronghold. Since then it has been the site of New Zealand's first harbor lighthouse, a quarantine station, a base for WWII defenses and now a wildlife sanctuary.
To visit, catch a ferry from Queens Wharf (CBD), Days Bay in Eastbourne, or Seatoun and Petone (weekends only). A walking trail takes you around the island, where you can expect to encounter native birds and maybe even a rare tuatara lizard. There are no shops on the island, so bring your own picnic (expect your luggage to be checked by a ranger on arrival to ensure you are not carrying unwanted stowaways ).
It's a relatively small island, so a few hours should cover it. The visitor center and museum display the history of the island (a good first stop), then it's up to you to discover the grounds. Find old gun emplacement, swim at the beach, check out 'weta hotels' (small enclosures made for wetas, the distinctive insects native to New Zealand), and climb to the highest point for a different perspective of the city you just left behind.
Mokoia Island
Rotorua is known for its exhilarating combination of adventure and culture, and a jet boat tour to Mokoia Island brings the two together. The island is the setting for one of New Zealand's most famous love stories, the legend of Hinemoa and Tutanekai. Separated by the waters of Lake Rotorua, Tutanekai played his flute from his home on Mokoia Island to signal his beloved Tutanekai to swim across the lake and into his arms. The tale rejected the beautiful song Koparkars Ana and continues to make every trip to the sacred island of Mokoia an emotionally touching experience – a chance to become legend.
While Tutanekai had to swim to the island, Lake Katoa Rotorua gets you there much faster. The Speed ​​and Spins with Mokoia Island plus Polynesian Spa tour lets you head out on a jet boat for an exhilarating 30-minute ride on the lake, followed by a guided tour of the island.
Geothermal hot pools are the soul of Rotorua, and there's something mystical about the way steam rises from Hinemoa Pool on the island. Mokoia Island is also an important wildlife sanctuary and home to many endangered birds, including the kiwi – expect to hear a chorus of birdsong as you wander the hiking trails.
The return jet boat stops at the Polynesian Spa, where you can bathe in the mineral hot springs. And if you're wondering about the "tours" part of the package, our only advice is to hang in there.
This article is produced by Broadsheet in partnership with Tourism New Zealand.