A Guide to Visiting Rock Island State Park in Door County
---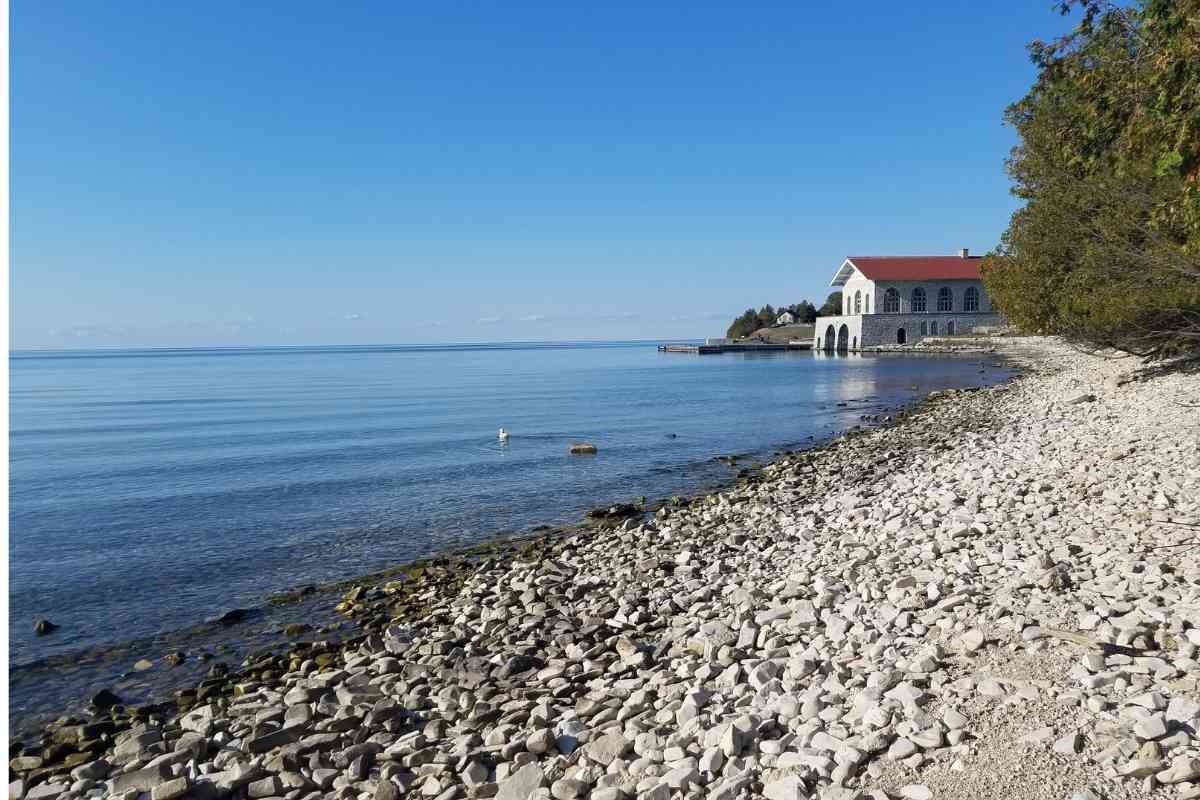 It goes without saying that Door County is one of the most pristine and undisturbed natural areas in our beautiful state of Wisconsin! In fact, Door County is home to 5 state parks that each have their own unique ecology and stunning beauty.
For the ultimate state park adventure, board the family (or make it a date!) at Rock Island State Park! Rock Island can only be reached by two ferry trips: one from the northern tip of Door County at Gills Rock to Washington Island, then a second ferry to Rock Island!
It's quite an adventure, and well worth the effort and ferry costs (although we have some great ideas to keep the cost down) to experience these pristine, crystal-clear waters and virtually untouched Wisconsin island landscapes. You'll also get a healthy dose of history via land and water along the way!
We've got everything you need to know to plan a successful trip to Rock Island State Park! But, before you head out on a trip, it's not too late to introduce your kids to Wisconsin Explorer's program so you can earn prizes and patches while exploring nature together in all of Wisconsin's beautiful state parks.
READ MORE: 26 Amazing Wisconsin State Parks Just Two Hours or Less From Appleton!
How to get there :
You have a few options! You can either take your car to Washington Island and then the ferry to Rock Island, or cycle to Washington Island. Another money-saving option is to pay the combined Washington Ferry + Rock Island Ferry fare when paying at the Washington Island Ferry. Bicycles are NOT permitted on Rock Island.
Rock Island Ferry Fares: Check them out website for current prices! Children under 5 and pets are FREE! Bring cash to pay the ferry operators directly once on board.
Ferry schedules: Changes from summer to fall. Check them out website for the current program!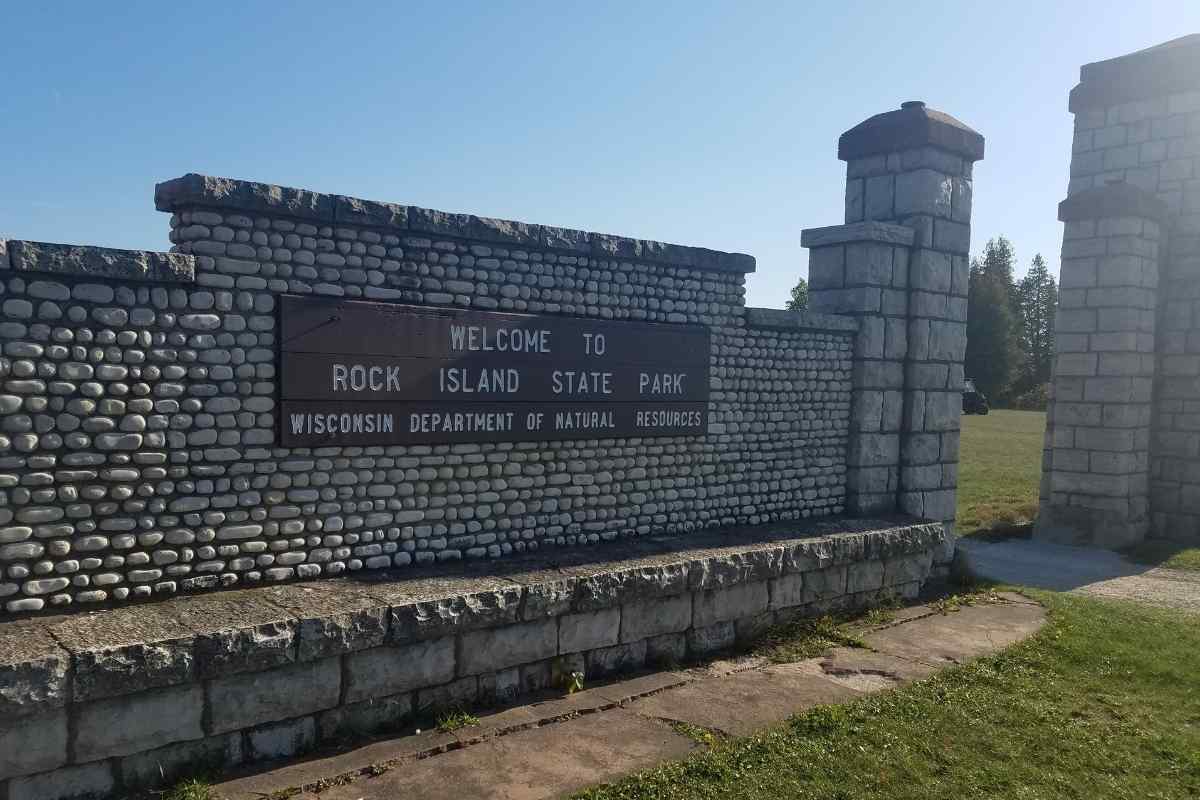 Overview of Rock Island State Park:
Travel Specifications: 3 hours, 2 minutes | 130 miles
Address: 1924 Indian Point Road, Washington, Wisconsin
Hours: The park is open daily from 6 a.m. to 11 p.m.
Seasonal hours: Memorial Day weekend through Columbus Day. There is no winter ferry access to Rock Island.
Camping: Yes, 40 rustic, walk-in family campsites are available! Many along the shore.
Pets: Pets on a leash are allowed in the park.
To note: You must pack all the food and supplies you will need on the island. Drinking water is available. The park also sells souvenirs at the Boathouse.
Story: Rock Island was originally inhabited by native tribes, then a small village of European settlers who later abandoned it for the larger Washington Island. In 1910, wealthy inventor Chester Thordarson purchased a large majority of the island and began constructing various buildings, including the majestic Boathouse, from the abundant rocks here to form his summer estate. The Wisconsin DNR purchased the island and buildings from the Thordarson heirs in 1965.
Recreational Opportunities
boathouse
One of many stone buildings erected by the late inventor Chester Thordarson, the Boathouse, currently serves as an indoor shelter and historical museum of sorts. Enter this majestic castle for a glimpse of Rock Island history!
There is a small gift shop with souvenirs. You can also spend time here playing chess, checkers and other board games with your family. It's a great place to retreat in bad weather, after dark (it's open until 9 p.m.) or to take a break from outdoor adventures on the island.
The integrated mooring area under the Boathouse is also a magical place. The crystal clear green waters and beautiful rock faces make this a sight you won't want to miss.
Fishing and boating/canoeing
Canoeing and kayaking are permitted on Rock Island, but be aware of the dangerous conditions that are a frequent threat in the cool and sometimes choppy waters here. The ferry may even be able to carry your canoe or kayak (but you'll need to take it from there) if space permits.
Come fish for smallmouth bass and gobies right here at the park! Remember to bring your own live bait or artificial lures as nothing is sold on the island.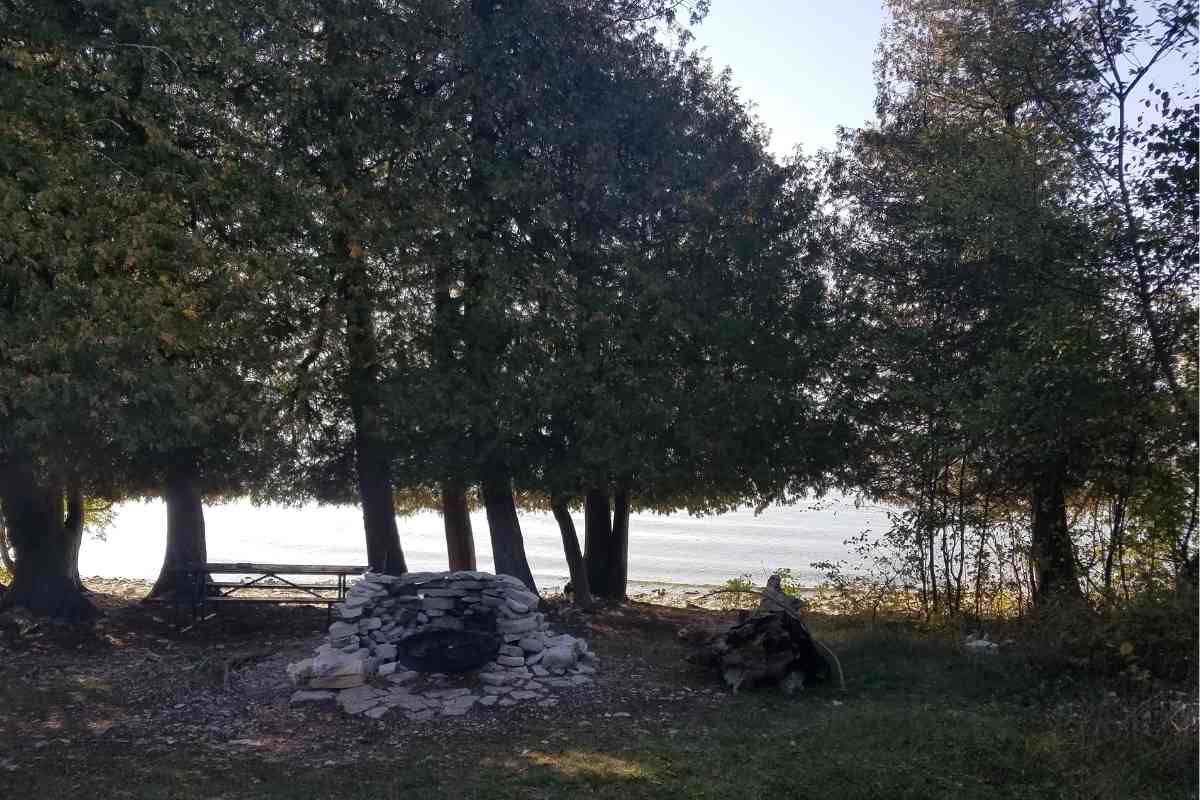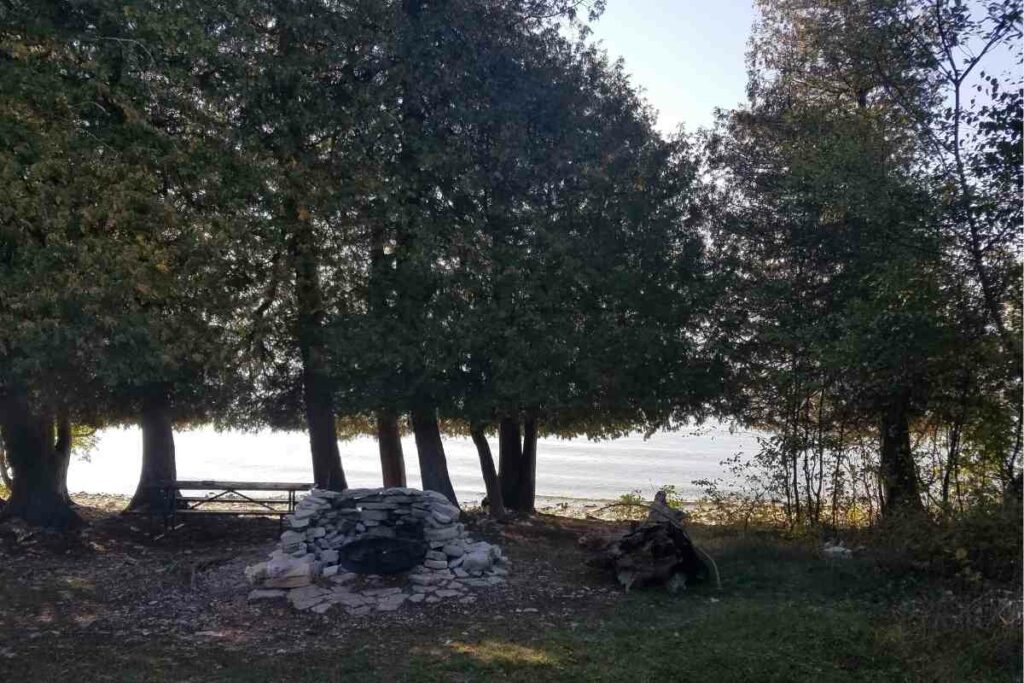 Camping
Rustic camping is definitely a highlight here at Rock Island State Park! All 40 sites are walk-in sites. You must pack and bring all your gear from Washington Island by ferry.
They offer carts to transport your gear to your site, or some campers prefer to bring their own carts or collapsible carts – expect ferry fees for these. Firewood sold in season at cost, potable water, and vault and flush toilets are all available on the island.
If you are looking for a campsite with a view of the beach, this is the ideal place for you! Camp along the shore at one of the many sites available.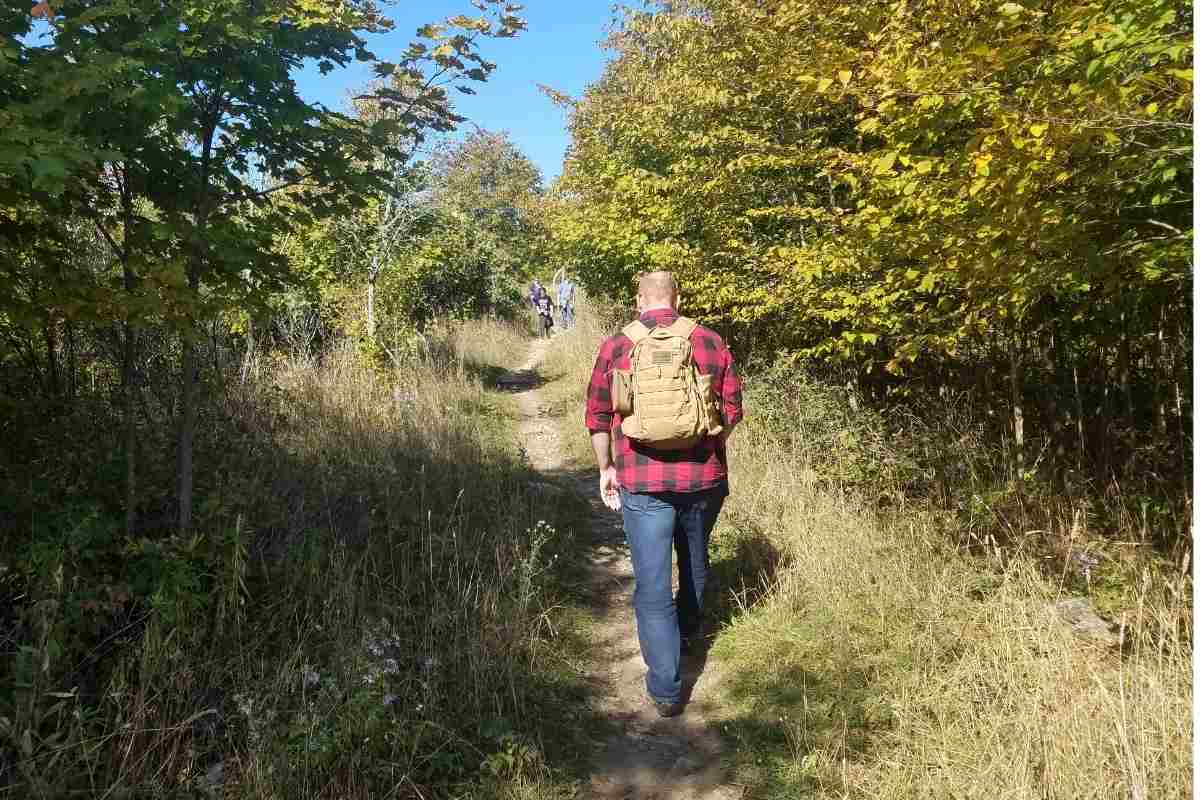 Trek
If you came to hike, then you are in for a treat! Rock Island State Park offers 10 miles of hiking trails and 6 miles of shoreline that are perfect for a family hike.
Professional travel: Be sure to budget your time. If you're only there for a day trip, you'll want to be back at the Boathouse before the last ferry leaves for the day. Here are some highlights:
Thordarson Loop Trail (8.2 miles) – walk along this magnificent path that goes around the whole island! You can also hike part of it to reach Pottawatomie Lighthouse. The trail has a few gentle hills and lots of tree roots. Baby clothes are best worn with those who are not yet walking or who need to take breaks from walking. There are also some scenic views and historic cemeteries/water tower along the way.
Algonquin Nature Trail (1.0 mile) – This trail is more low-key and winds through the natural landscape of the inner island near the campground.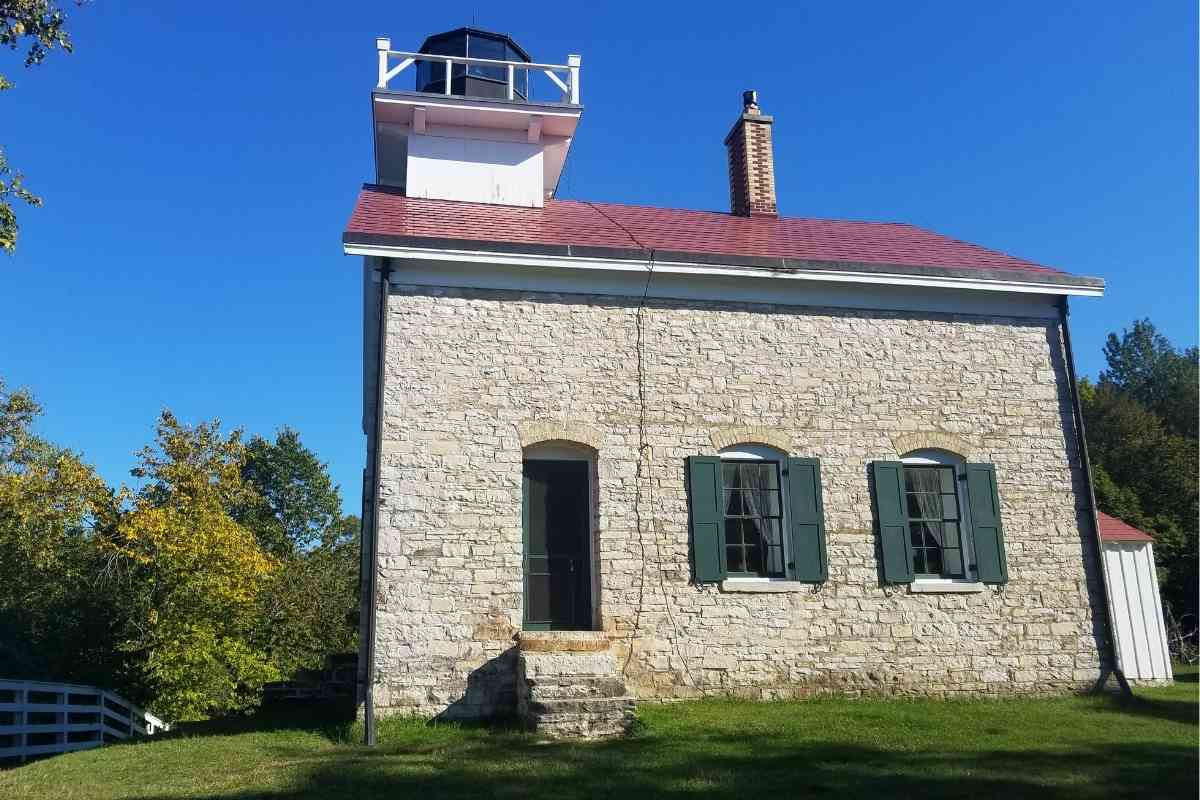 Lighthouse
Take the Thordarson Trail to Historic Pottawatomie Lighthouse, one of the highlights of a trip to Rock Island State Park! Free tours (donations appreciated) are available daily from 10 a.m. to 4 p.m. Memorial Day through Columbus Day. You can even climb up to the lantern room during your visit! There is also a small gift shop inside. Discover the panoramic view and the historic cemetery nearby.
Picnic area and playground
There is a general picnic/play area, and the greenhouse shelter is located just beyond the boathouse and ferry landing. You'll find plenty of picnic tables and green space to enjoy here, and a collection of garden games are available for use in the greenhouse. Plus they have super nice flush toilets!
Swimming
Swimming is permitted anywhere in the waters surrounding the island, except near the wharf. Many campers choose to swim directly from their campsite. The water here is tested regularly for safety.
Visiting in winter?
The DNR does not advise visitors to come to Rock Island in the winter. The ferry season ends in early October. Ice conditions are often dangerous and unpredictable to cross on your own.
READ MORE: Visit Door County for Winter Adventures
A few of our favorite pit stops along the way:
Fragrant Island Lavender Farm1350 Airport Road, Washington Island, Wisconsin

Immerse yourself in all things lavender here in their shop and gardens! This is the largest single-site lavender grower in the Midwest! You can enjoy lavender-infused baked goods while sitting in their peaceful lavender gardens on the tranquil, simply happy island.

Island orchard cider12040 Garrett Bay Road, Ellison Bay, Wisconsin

Hard cider created in Door County for beginners and novice drinkers. They also offer lovely charcuterie platters and outdoor dining.
If you don't make it to the cider house, you can also find Island Orchard throughout Door County. Find local spots here.

Newport State Park475 County Road NP, Ellison Bay, Wisconsin

If you're looking for a more rustic wonder and amazing night sky viewing park, this is the one for you!

Not yet licked4054 Main Street, Fish Creek, Wisconsin

Amazing custard, soft play area, and just outside of Peninsula State Park. This one is a Door County favorite and well worth splurging on while driving.

Peninsula State Park9426 Sore Road, Fish Creek, Wisconsin

Wisconsin's favorite state park! They have it all here including hiking/biking trails, beach, golf, theater, lighthouse and an amazing accessible Eagle & Canopy Walk observation tower!

school beach1824 Washington Harbor Road, Washington Island, Wisconsin

A breathtakingly beautiful and pristine rocky coastline. It's a perfect place for swimming, a picnic or photos!

Seaquist Orchards Farm Market11482 Hwy 42, Sister Bay, WI 54234

Children can enjoy a rope maze, pedal car track, sandbox, corn hole game and playground. The best FREE fun around! They offer a variety of cherry products, fudge, FREE samples and more in their store.

Lumber orchard market8112 WI-42, Egg Harbor, WI 54209

Children can enjoy a corn maze, pedal car track and playground. Stop by the store for armfuls of seasonal goodies, Door County specialties, samples, and FREE apple cider popsicles for the kids!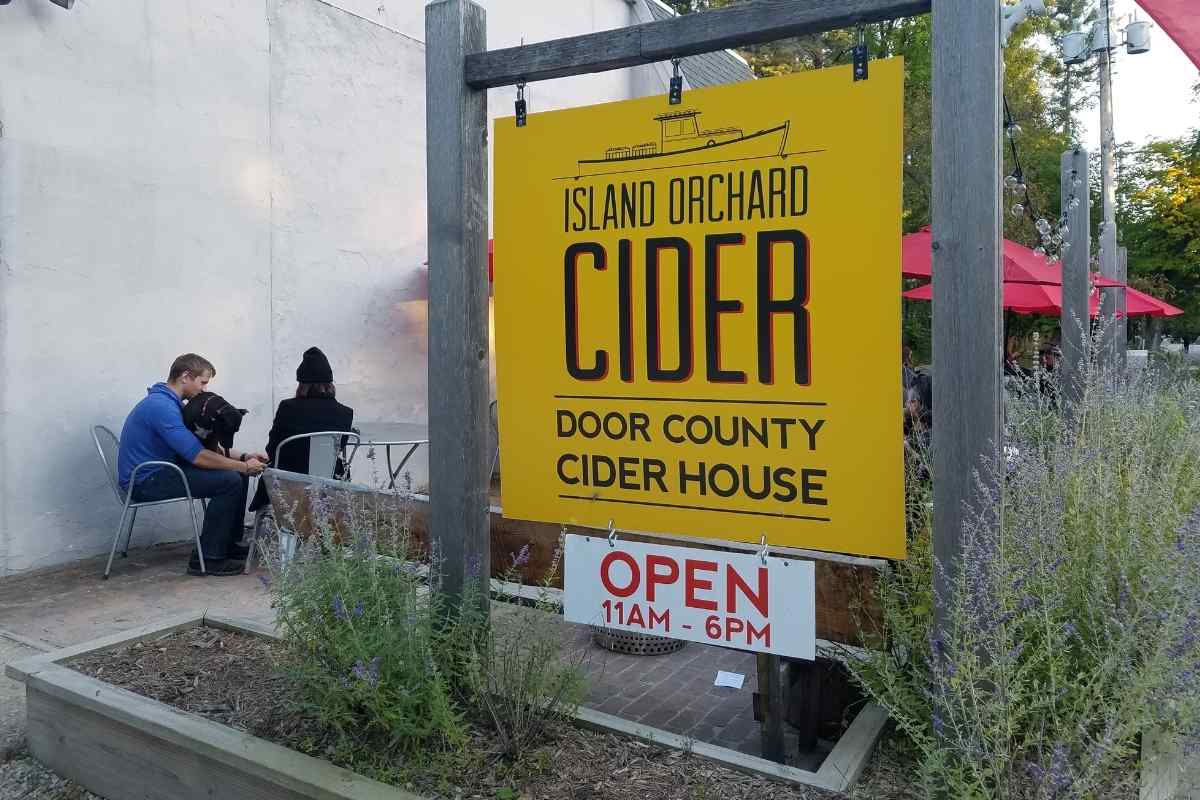 READ MORE: Family road trip! Our favorite things to do in Door County with kids!